Spectrum is produced by Politrain Consulting and Manifold Data Mining. Our objective is to make demographics accessible and understandable to campaigns and elected representatives, and to offer the best data and analysis to inform strategies and decisions. We continue to look for ways to break new ground in electoral demographics in order to bring you innovative products.
To contact us about Spectrum, demographics for business, or poll maps please use our contact form.
Politrain Consulting
Politrain Consulting provides business analysis, mapping, demographics, and database services. In the political sector, products include PollMaps.ca (election results analysis maps) and Track and Field (a voter tracking and campaign operations application) in addition to Spectrum Electoral Demographics. Politrain Consulting also provides strategic services such as campaign management, micro-targeting, and planning.
Outside of the political sector, Politrain Consulting works with companies to design and build mission-critical business applications.
Manifold Data Mining
Manifold Data Mining Inc. specializes in creating demographic, household expenditure, consumer purchasing behaviour and lifestyle cluster databases at the 6-digit postal code level for target marketing. Manifold Data Mining provides analytical services for transforming a database into a knowledge base, e.g., quantifying consumer purchasing behaviour via customer profiling, customer segmentation and predictive modeling for more effective database and direct marketing.
Clients employ Manifold Data Mining to understand their customers better, target their markets more precisely and help make their marketing campaigns more efficient, effective and profitable.
our products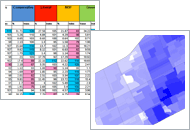 Spectrum offers innovative products to give you an edge.
Find out more
inquire
Contact us to discuss a package that meets your needs.
Contact us